Fundamentalist rules related to the acts from the Al-mustasfa book of al-Imām Al-Ghazālī (505h) rooting and application
Keywords:
Rules, Al-mustasfa, Imam Al-Ghazali
Abstract
This study contains the fundamentalist rules relating to judicata and the acts of the people in charge to which the Shari'a Rulings are related. The study also aims to demonstrate the views of the fundamentalists, and their evidence and discussion to reach the prevailing opinion thereon, in addition to the judge's conditions, namely the validity of the occurrence, the permissibility of the acquisition, the knowledge, and the will to obey it. This study also includes some of the jurisprudential applications of all the rules mentioned therein, such as refraining from unbearable assignment and not mandating abandonment of the two counts. Other examples include the abandonment of the requisite assignment, the act of the invalid within the assignment, and the attainment of the legitimate requirement is not a requirement for commissioning. This study concluded with a few findings and recommendations.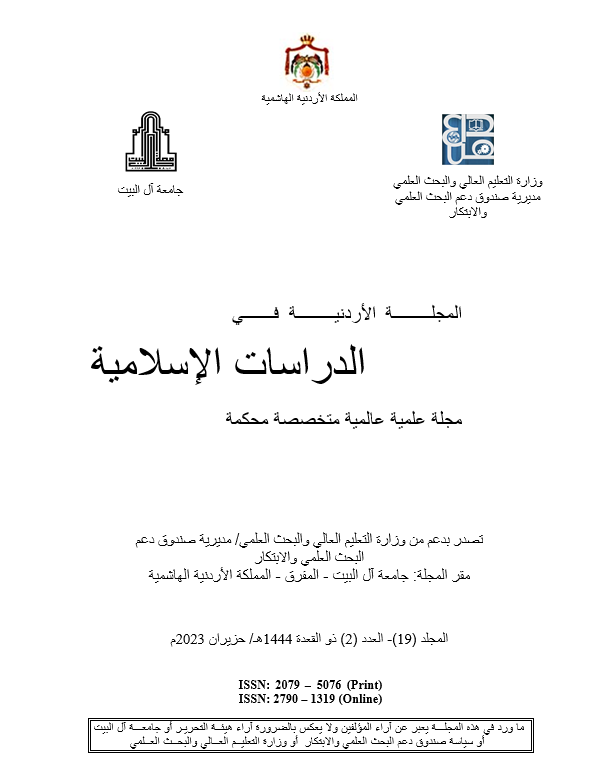 How to Cite
Rawashdeh, M., & Golenj, S. (2023). Fundamentalist rules related to the acts from the Al-mustasfa book of al-Imām Al-Ghazālī (505h) rooting and application. Jordan Journal of Islamic Studies, 19(2), 181–224. https://doi.org/10.59759/jjis.v19i2.28